On Friday lunchtime I took part in a Twitter chat with celebrity mum Jenni Falconer, in association with homemade yoghurt maker EasiYo and parenting magazine Gurgle, I thought I would share 5 of my questions and Jenni's answers with you all in case you missed it...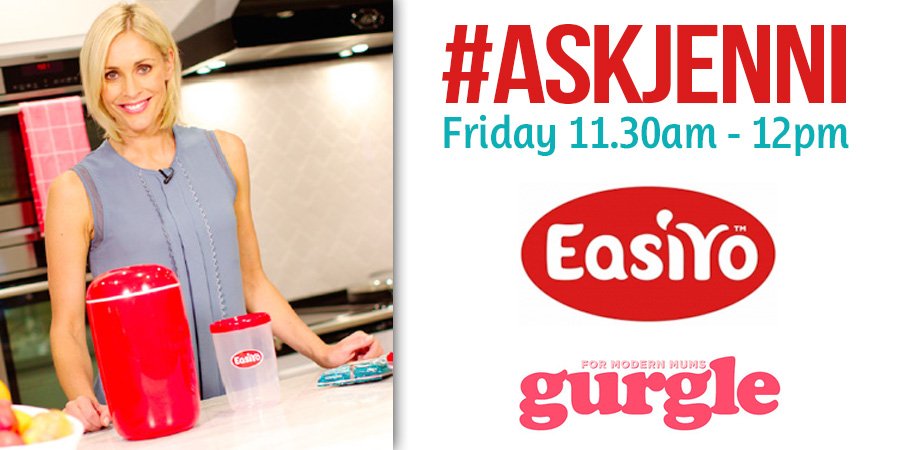 Lets get on with my questions...
Do you bake/cook with your children? What's their favourite thing to make?
Absolutely - we bake cupcakes a lot and we are slowly improving! I am learning with my 4 year old!
What's your ideal choice for an after pre-school snack?
Well Ella loves fruit so we tend to make a yoghurt/fruit mix and sometimes add muesli to give it some crunch.
What would be the first thing you grab to keep children busy for when you hear the dreaded "I'm bored"?
We sing Annie songs a lot! We make cards for friends. And I set her challenges like balance on 1 leg...
What is your favourite EasiYo recipe?
The pumpkin soup's delicious, the courgette frittata's are gorgeous and then I love the ginger marinade for chicken.
What's your top Winter Wellbeing tip? It so easy to just sit under a blanket in winter! How do you get motivated to keep active?
For me it is all about keeping fit & active. Exercise & fresh air with a good diet...and sleep if you can get it!
Thanks for that Jenni, I will definitely try to set the monsters a few challenges next time they mutter ''I'm bored!''. As an EasiYo Ambassador I will have our review of the new EasiYo red coming soon so keep an eye out! And I am definitely going to pop over to the
EasiYo website and check out all the recipes...who knew you could use EasiYo for more than just a yoghurt!
Disclaimer: I WASN'T paid to write this post, I just thought I would share my questions and answers with you and introduce myself as brand ambassador.