Its here! This week Toddler Approved Tuesday is one years old, who would have thought last October that we would have such a great community of linkers, a Facebook page, a pinterest board and a dedicated giveaway to celebrate!
We have a whole week of giveaways dedicated to #ToddlerApprovedTuesday AND a special email subscribers/link up giveaway
(UK Only, sorry)
. Link up this week and you will be entered into our Email exclusive giveaway to win over £100 worth of books! The Rafflecopter form is in this weeks email so be sure to open it and click the Rafflecopter button to validate your entry! Wait your new to #ToddlerApprovedTuesday? Don't worry, if your new around here pop a comment on mine or Leandras blog AFTER you have linked up and we will manually add you to the giveaway.
(By linking up to #ToddlerApprovedTuesday you are therefore signing up for further email correspondence)
Come back every day to find a new giveaway for the next 7 days!
Image from 3 Dancing Dandelions (link above)
Image from Life With Baby Kicks (link above)
Now, On with the show...
We would absolutely love it if you would join us, the linky will open every Tuesday through to Thursdays and give us a good few days to see what your little ones have approved! Every week myself and Leandra will each pick our fave two for a #ToddlerApprovedTuesday Showcase which will be featured on our posts and in the weekly #ToddlerApprovedTuesday email, which hits over 125 email addresses each week!
Remember to share your post and the linky party using the hashtag
#ToddlerApprovedTuesday
on your social media, Leandra and I will Retweet all your posts via Twitter (make sure you mention us in your tweets
@3princess_1dude/@larabeeuk
for us to be able to Retweet
).
Rules:
1. Link as many posts as you like (well with in reason!), remember to copy and paste the#ToddlerApprovedTuesday badge on each post you would like to link up.
2. Pop by and comment on as many as you can. Can't comment? Why not Pin It or share on Facebook or Twitter instead? It only takes 2 seconds to click the share button!
By linking up you agree to receive future email notifications regarding #ToddlerApprovedTuesday. These emails can be unsubscribed from by clicking the unsubscribe button in the email.


The Badge: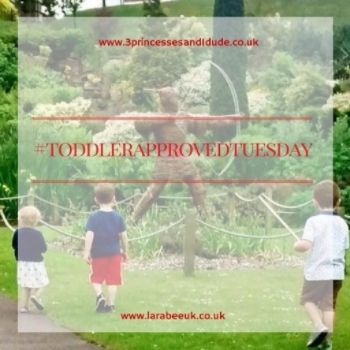 Rememebr to grab the badge (up there^^^) and link up below. (Also remember to pop by your #ToddlerApprovedTuesday email and enter the Rafflecopter giveaway! to be eligibe to win your link up must be relevant and we are sorry but its UK only this time, sorry!)