Happy Easter everyone, hope you have all had a fab weekend! Me and Leandra are kicking of the 'back to normality' with this months Parent Idea Swap. This month is all about 10 minute activities.
Come and join us with with all your posts, old or new and as many as you have! I'm in desperate need for quick activities as all my ideas seem to have dried up!
I'm sure all of you Mummy and Daddy's (and child carer's) have at least one activity you could share? We would love to see it!
Share your links below and tweet us (
@3princess_1dude
@larabeeuk
) for a retweet and also any links shared below will be added to our Parent Idea Swap pin board (follow it below)
You can also share with us on Instagram (@3princesses1dude @larabeeuk).
And remember the #ParentIdeaSwap twitter chat tonight (Monday 6th April 2015) starts at 8-9pm.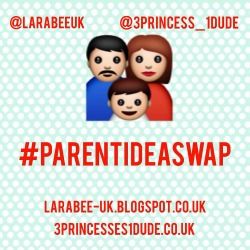 So grab the badge and link up below! We would also really appreciate it if you let your fellow bloggy friends know about the link up too!
Ohhh and lastly before I forget...last month we held a competition, the winner receives a $15 spend at Curious Minds....
Congratulations to Annabelle, we will be in touch shortly.