A little bit later this month as last Monday was Leandra's Birthday, this month is all about Busy Bags.
Busy Bag? Whats a busy bag I hear you call...for those of you unaware, a busy bag i

s a child-friendly activity that fits inside a little bag (think ziploc size) that can be pulled out at anytime to keep the monsters erm, busy. They are perfect for

restaurant

visits, doctors waiting rooms, quiet time etc etc!
They can be made up of anything, from something simple like a print out car track and a few toy cars, or how about some craft sticks with velcro dots on the end?
Know I have made busy bags before but somehow never manage to blog about them! So why not join me this month is making some up, blogging about them and coming back here to share them with us all! I am linking up a 5 Ideas For...post to get me started, it's well worth a look as a nice roundup of some brilliant ideas that are out there!
And also why not pop over to Pinterest and follow my Busy Bags pin board...
Also why not give us a follow on Twitter & Instagram: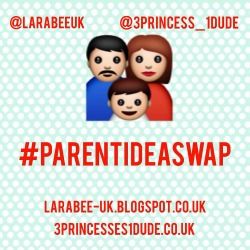 And Link up below, remember you can link up old and new posts and as many as you like and remember the twitter chat TONIGHT 09TH March 2015 8-9PM (UK TIME!) USE THE #PARENTIDEASWAP hashtag to join in!!


COMPETITION TIME!
This month myself and Leandra are offering one lovely reader/linker upper/Tweeter/Instagrammer the chance to win their choice of Busy Bag from
Curious Minds Busy Bag Shop
.
All you have to do is share your ideas with us either here on the link up OR over on Twitter and Instagram using the hashtag #ParentIdeaSwap and remember to tag one or both of us so we see your entry!
Find the T&C's below:
Terms and conditions.
Prize can not be exchanged for cash

You can choose any item/s up to the value of $15

The cost of your chosen item and postage will be covered by 3 Princesses and 1 Dude! and LarabeeUK

If you wish to return any items brought you must do so at your own cost and a replacement/credit will be given

No cash will be give for any unspent amount

The competition will START at 8.30pm, 9th March 2015 (UK Time)

The competition will END at midnight 31st March 2015

To be entered into the draw you MUST do the following: follow @3princesses1dude AND @larabeeuk on Instagram, and Twitter (links are above) and you must do one of the following:
* Join in the above linky and use the #ParentIdeaSwap badge (above)
* Tweet your idea using the hashtag #ParentIdeaSwap and tagging either @3princess_1dude or @larabeeuk
* Post a photo of your idea on Instagram using the hashtag #ParentIdeaSwap and tagging either @3princesses1dude or @larabeeuk
Every entrant will be given a number, in the form of a list kept by the competition holder/s. One entry per person though you can link/tweet/instagram as many posts as you would like.

The draw will take place on 1st April 2015 and winners will be announced during the evening of stated date

The draw is final and will be recorded and posted for all to view

International entry acceptable

Finally Curious Minds Busy Bag Shop has no affilation or sponsorship with this competiton/giveaway
I think that covers just about everything? Any questions just pop a comment below, or comment on Twitter/Instagram, and we will get back to you as soon as possible.
See you next month and good luck!