This weeks Blog Stars Little Star is Little G from over at What Katy Said. Little G is 4 years old and is big sister to Baby L who is 1 years old.
Katy blogs over at 'What Katy Said'. She writes about life as a mother of two daughters and aims to inspire people to make the best out of every day. You can follow Katie on
Facebook,
Twitter and
Instagram.
So here are the answers as told by Little G, 3 years old and a proper monkey! Baby L is only 1 and can only say "Ah" so didn't take part!
1. What is something Mummy always says to you?
"
I love you"
2. What makes Mummy happy?
3. What makes Mummy sad?
When I do something to L, like pushing her over.
4. How does your Mummy m
ake you laugh?
She struggled with this- obviously not the funny parent!

5. How old is your Mummy?
6. How tall is your Mummy?
(Points way up high!)

7. What is Mummy's favorite thing to do?
Play train track with me!
8. What does your Mum do when you're not with her?
Go to work and does writing about blogging.
9. What is your Mummy really good at?
Crafting cos she helps me.
10. What is your Mummy a bit rubbish at?
Playing that scriggle pads game. (We absolutely have no idea what she was talking about but she was adamant I was no good at it!)

11. What does your Mummy do for her jo
b?
Goes to school and does teaching.
12. What is your Mummy's favorite food?
13. If your Mummy was on the TV what would she be on?
Sleeping Beauty (hahahaha!)



14.What do you and your Mummy do together?
Tidy up and play things like crafting.
15. How do you know your Mummy loves you?
16. What does Mummy like to wear?
Dresses, she wants a dress like mine.
17. What does Mummy watch on TV?
Cbeebies (naturally)
18. What does Mummy drink?
Coca Cola (I literally never drink this ha!)
19. What did Mummy do before she had babies?
She went to the hospital (She was quite literal and obviously just before I had babies that is indeed where I went!)
20. Where is Mummy's favourite place?
The fun fair.
Thanks for taking part in Blog Stars Little Stars...with possibly the best answer ever 'went to the hospital' ha ha ha!! Here's your badge so your readers know Little G is a Blog Stars Little Star!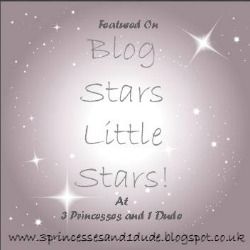 If you enjoyed this post why not check out our other Blog Stars Little Stars? Just click the badge below!